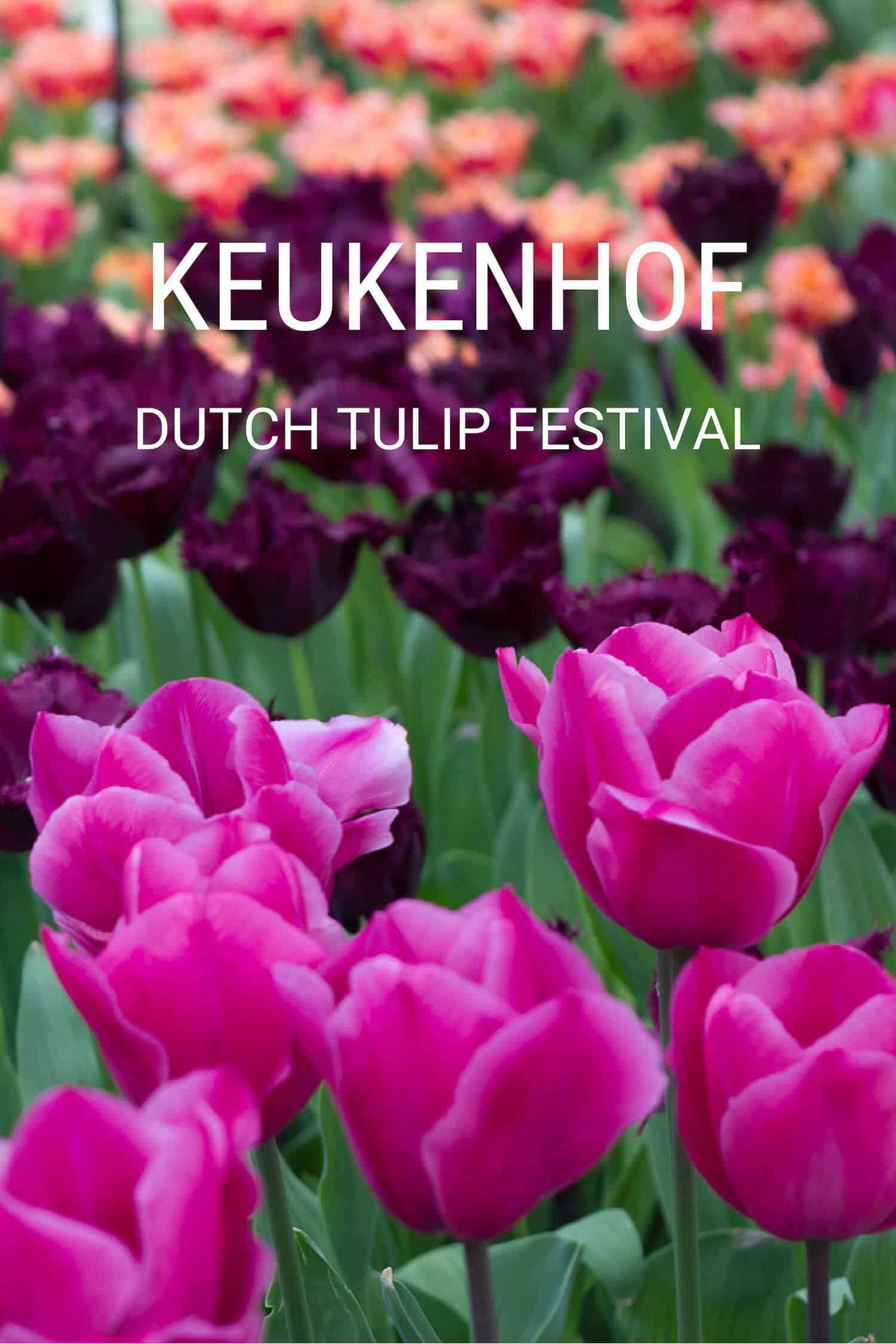 Keukenhof is the home of Amsterdam's tulip festival in the Holland and is the most well-known tulip festival and garden in the world. The festival is located an hour by train (35 km) south of Amsterdam in the small town of Lisse.
It's a fun day trip from the capital for flower and garden enthusiasts or you could include it on a road trip around the Netherlands.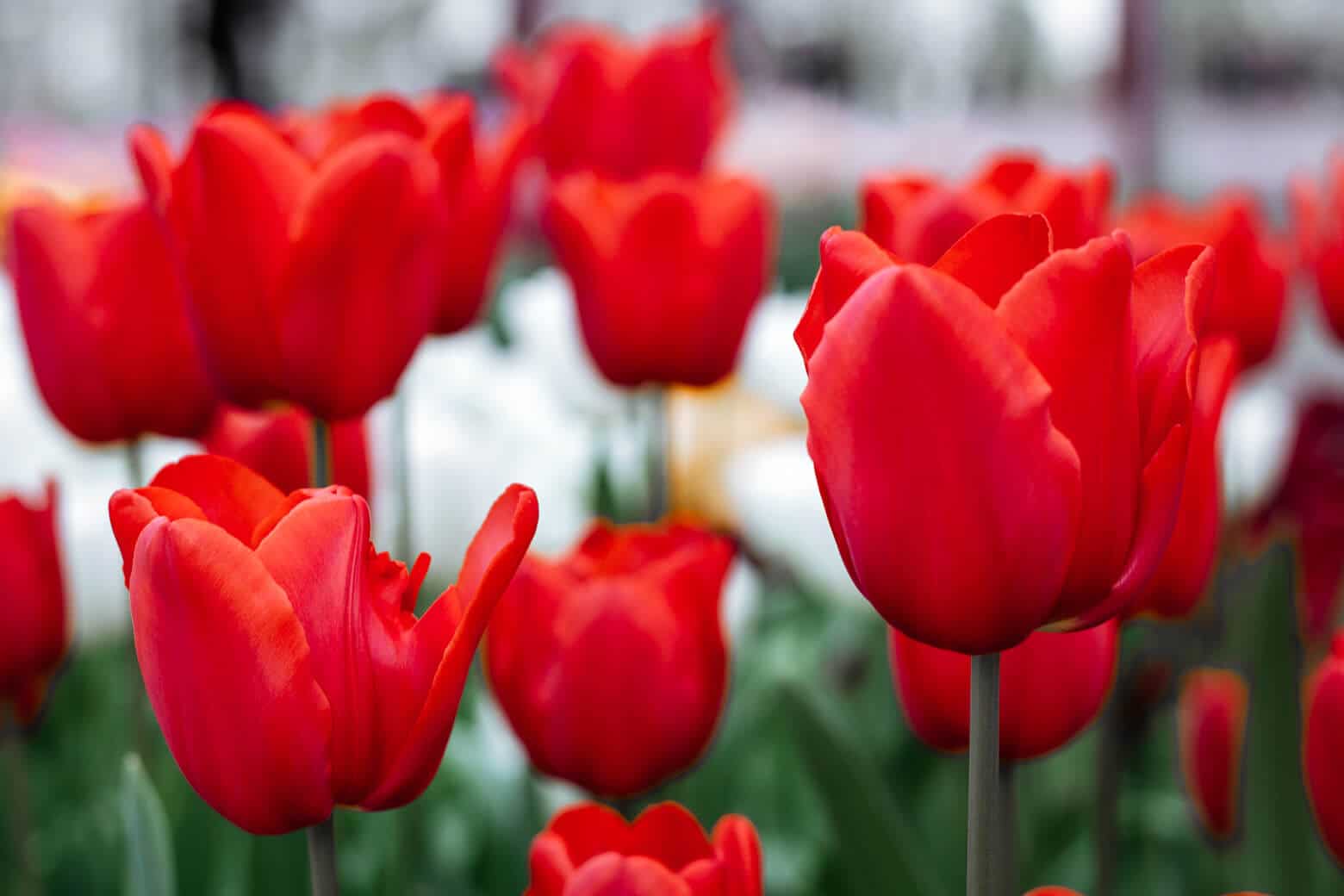 I've always wanted to go to the Netherlands and Holland to see the tulips and the festival didn't disappoint. Walking around the gardens you'll see colourful flower beds of tulips, daffodils, hyacinths and so many other flowering bulbs.
Dutch Flower Festival
The Amsterdam tulip festival runs from late March to mid-May (2020 dates: 21st March – 10th May 2020 – book a tour here) and depending on when you visit you'll see different flowers in bloom. When I went in early April the tulips were just starting to flower in the outdoor flower beds and there were thousands inside. The best time to visit Keukenhof is probably late April to early May.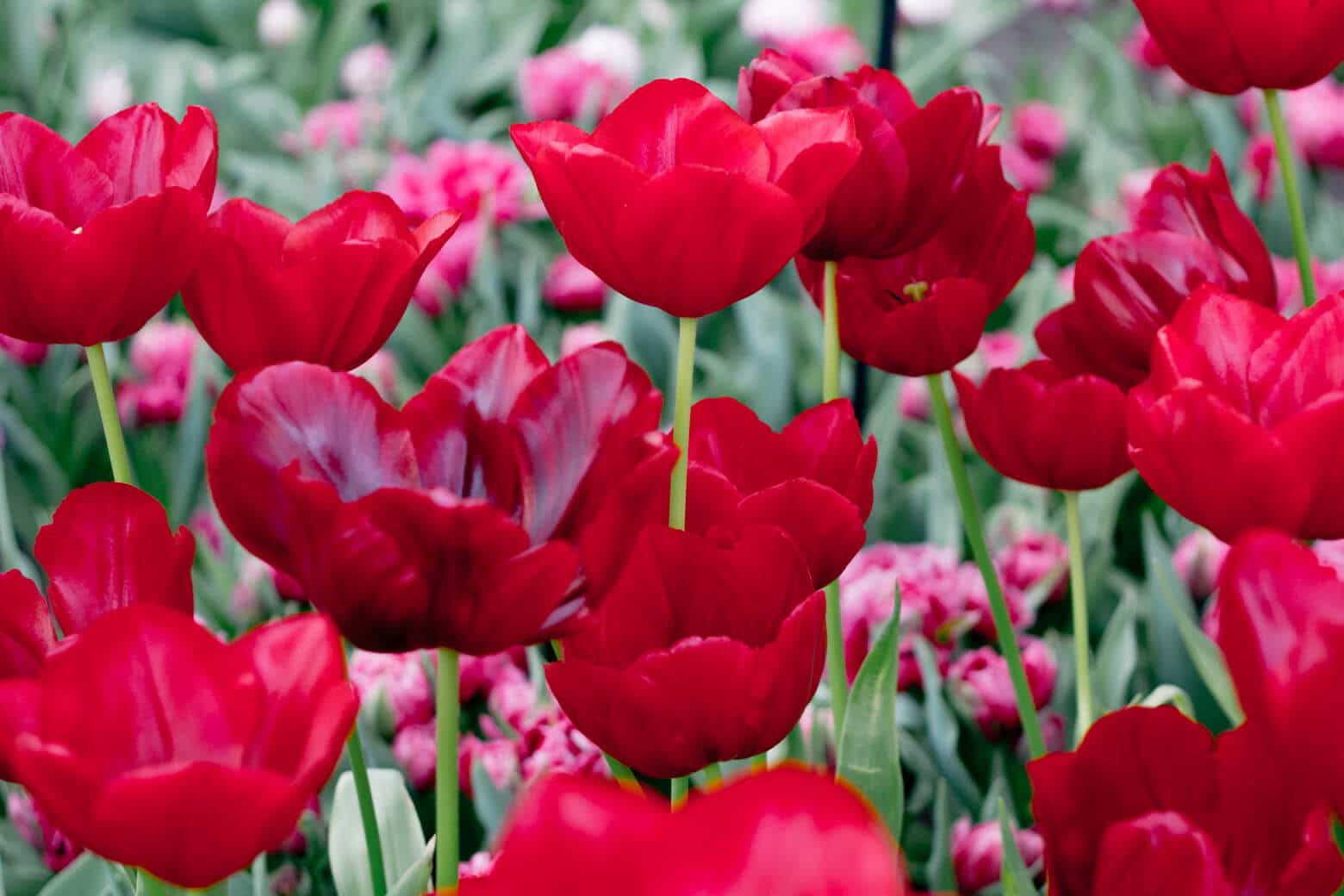 Some of the best and most interesting tulips are in the indoor pavilions. The pavilions are where you'll see just about every tulip colour and type imaginable and these are in flower for the entire festival. They're always experimenting with new colours and types of tulips. You'll find singles and doubles in the most amazing colours.
Amsterdam Tulips
If you love tulips or flowers or gardening in general, you'll love the Amsterdam tulip festival at Keukenhof in Holland.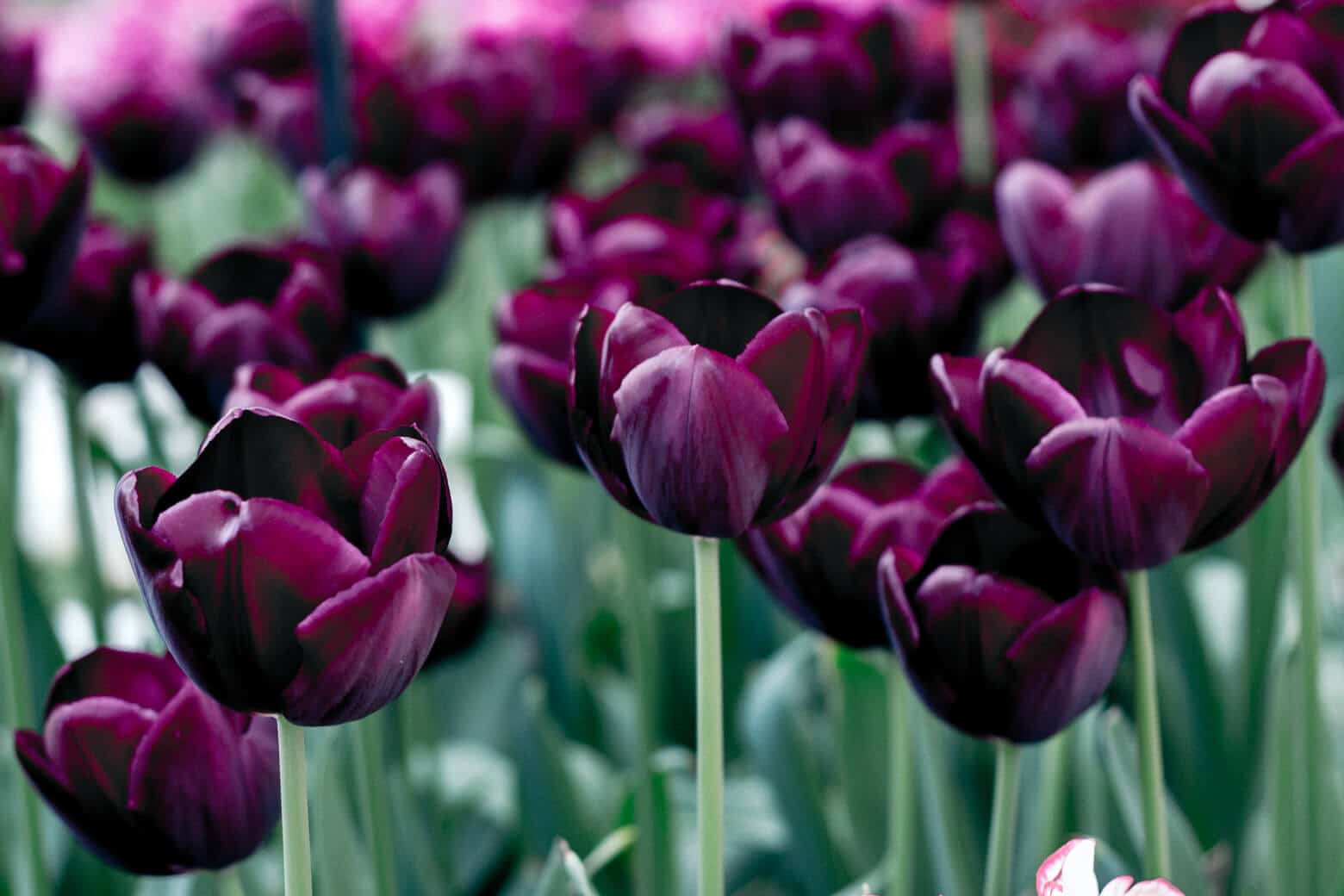 My favourite was probably this blue and pink fringed tulip. Such a special tulip. It's very cool to see something like that in person. The black (or near black) tulips are unique and unusual too.
Tulip Festival Holland
Each year at the tulip festival in the Netherlands, new varieties of tulips are on display so you can visit in multiple years and see different tulips each time. I'm looking forward to my next visit Keukenhof, hopefully in 2020.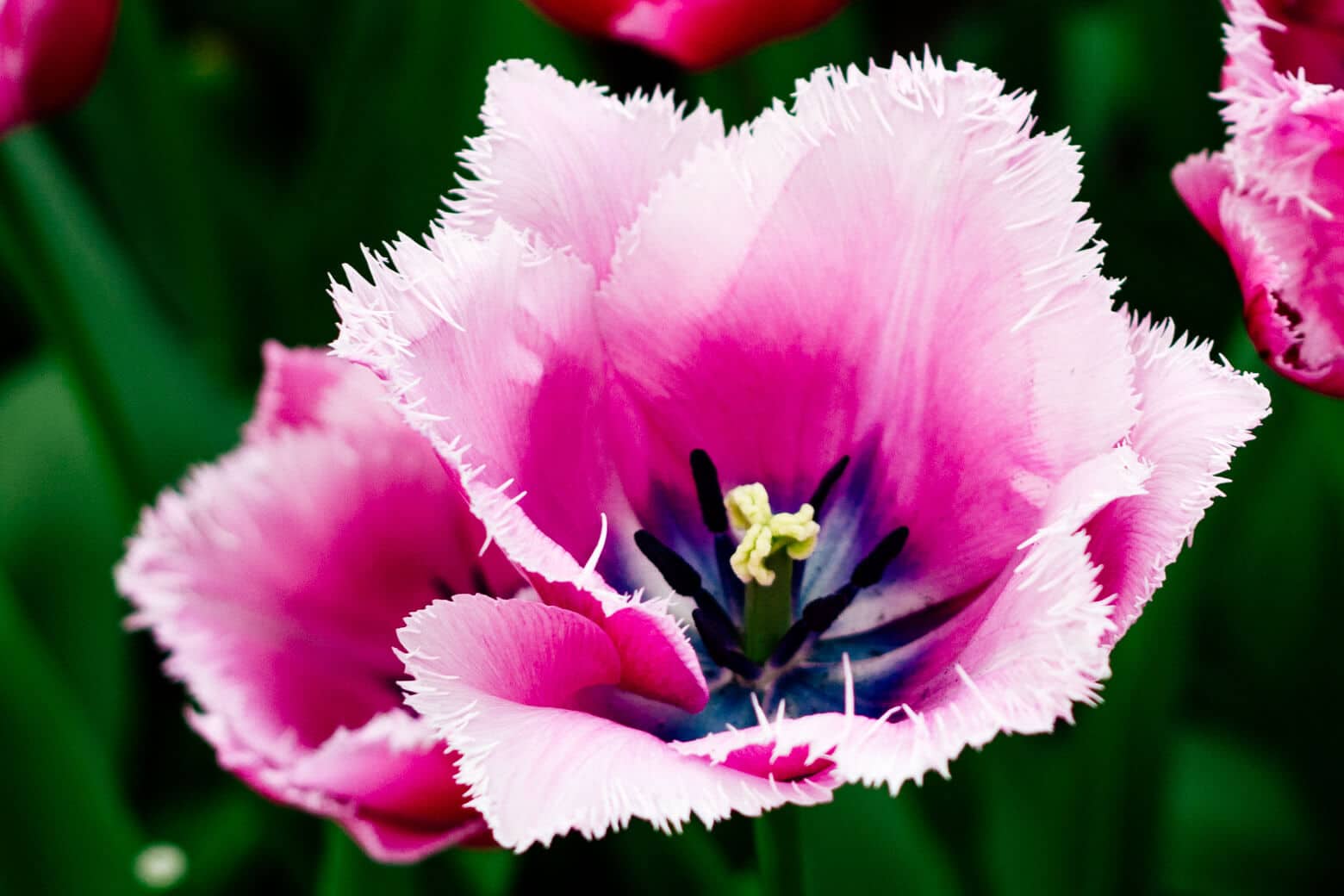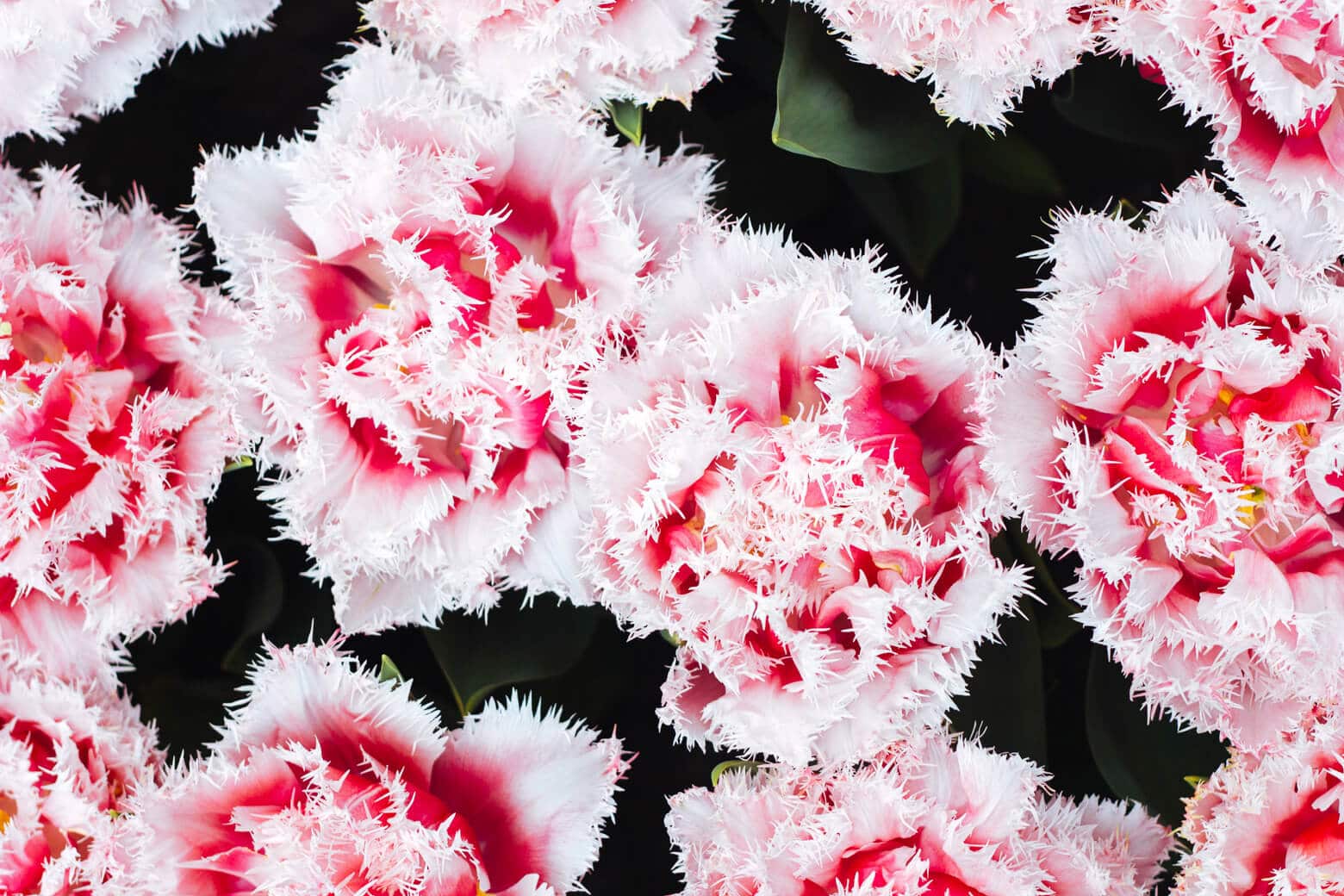 The Best Flower Festival in Amsterdam
If you visit in April, you'll also see many different colours of sweet-scented hyacinths, an underrated flowering bulb in my opinion. I love them, even the cute little grape hyacinths which I'd never seen close up before.
There are flower beds filled with pink, white, blue, yellow, and mauve hyacinths and there are different varieties in pots in the pavilion. This changes all the time so expect to see all kinds of different flowers, both new and heirloom varieties. These are a good plant to buy at Keukenhof as they are so easy to grow in pots and are perfect for a desk or windowsill.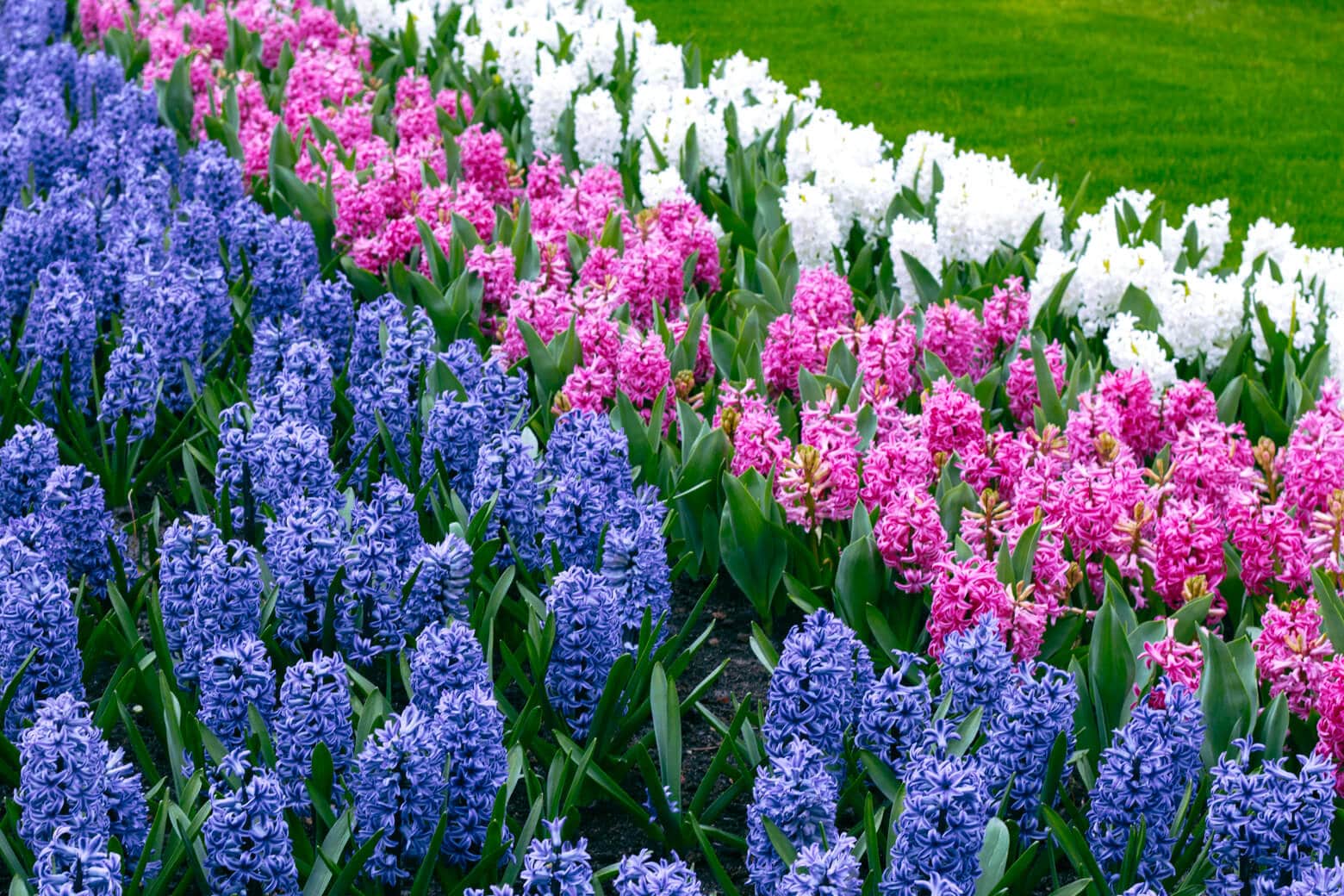 I was surprised to see there is also an indoor area for orchids, something I wasn't expecting before I went. I have never seen such a huge variety of orchids before. If only I could grow these myself, I did try once but after the initial bloom, they never flowered again. They are incredible and so delicate looking.
Don't miss this section of the flower festival, they are located in one of the larger pavilions separate from the indoor tulips.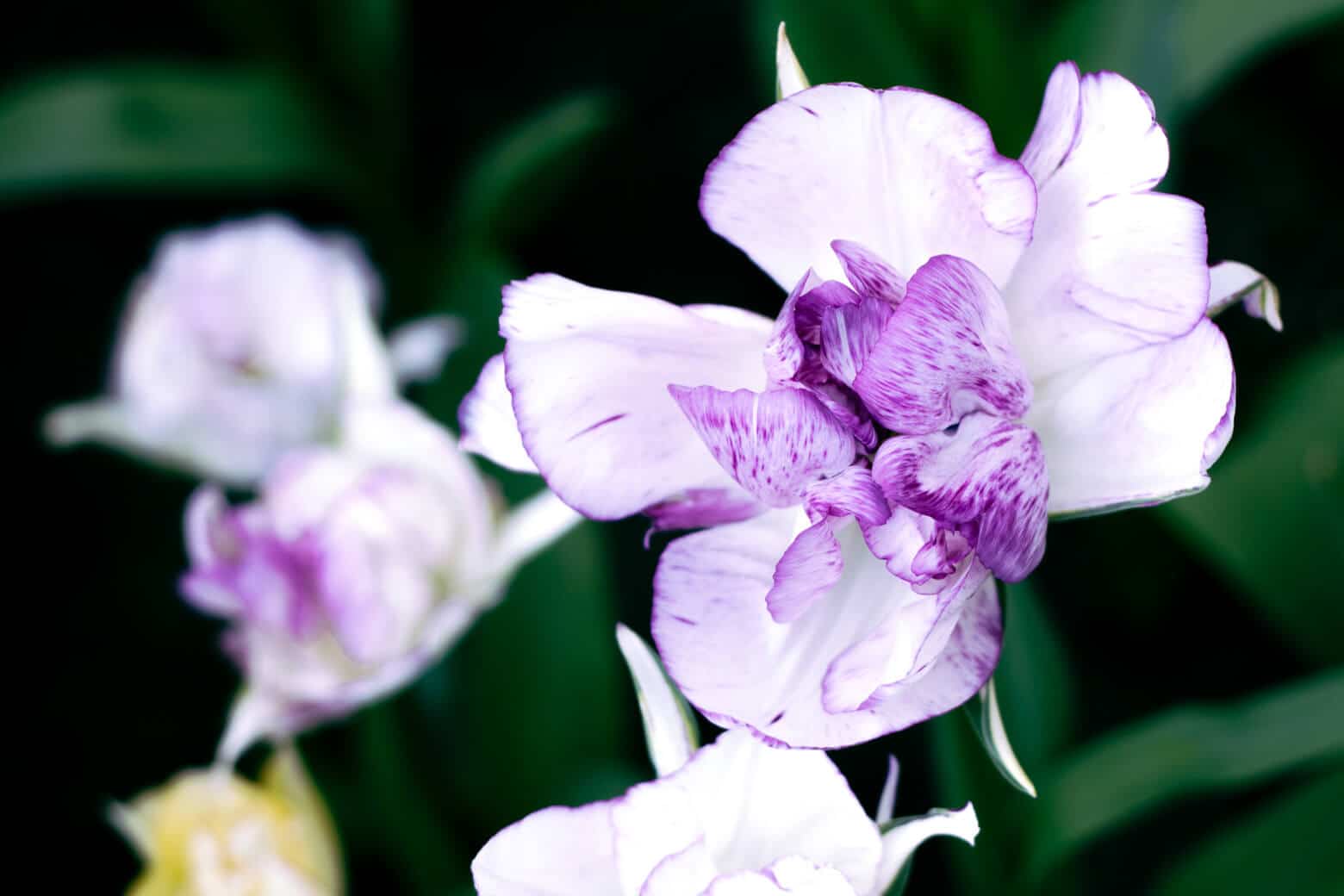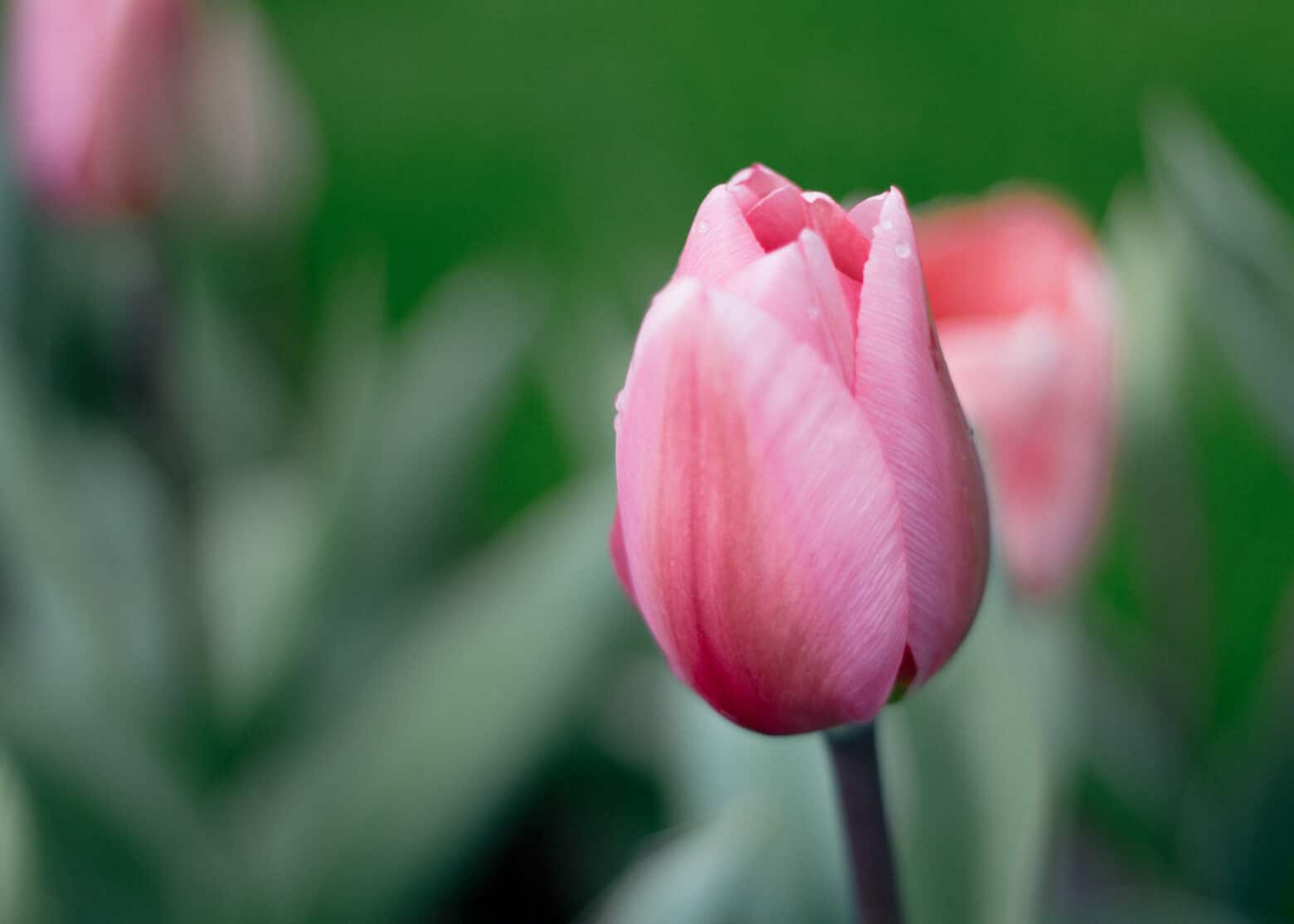 You can buy some tulip bulbs to try to grow at home if you like. You can get them directly at the Keukenhof garden in Lisse or at the floating garden centres on the canals in Amsterdam. Just make sure your country allows you to bring home plants.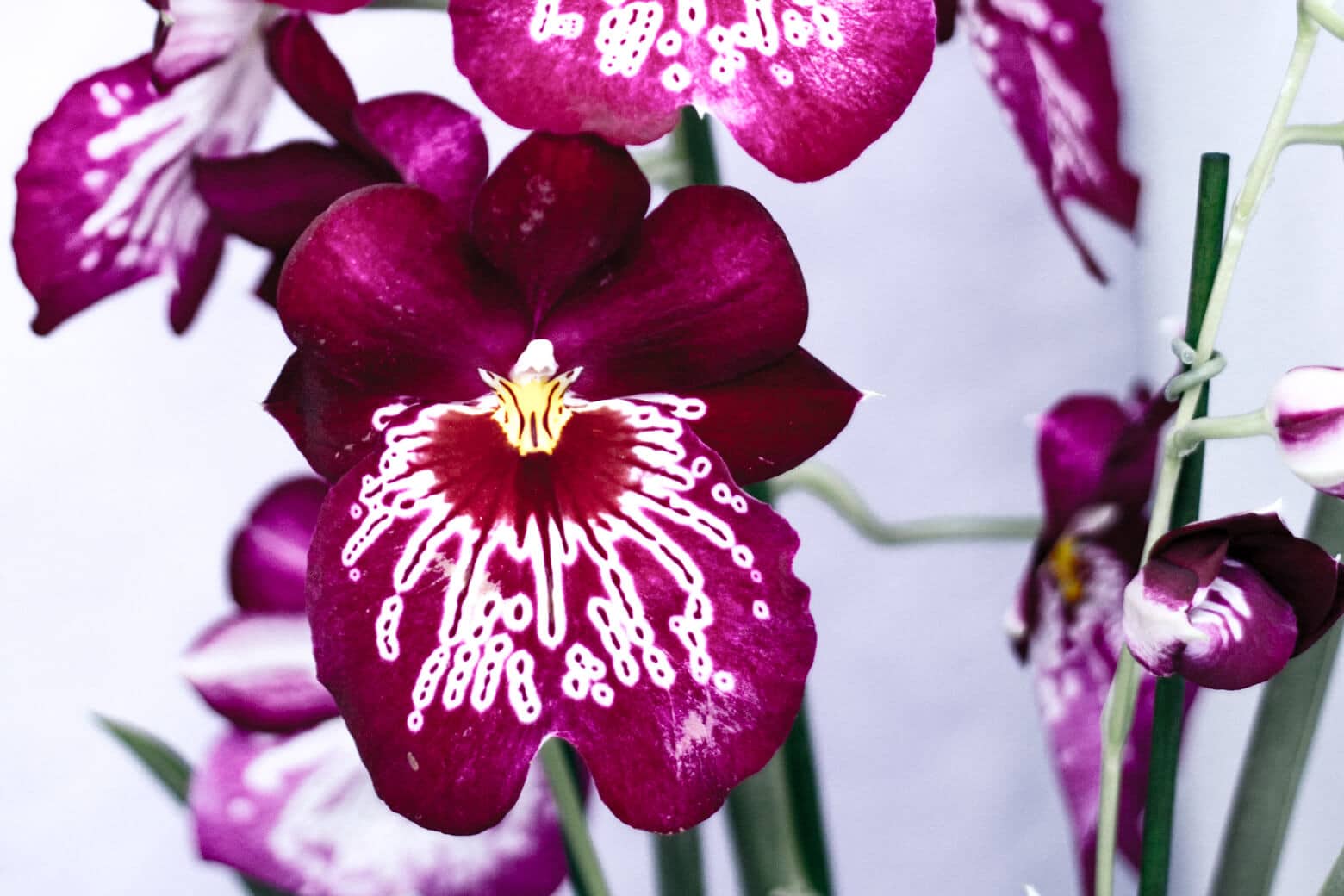 Holland's Tulip Fields
Don't forget that around Keukenhof botanical garden there are massive fields of tulips. These are almost better than the festival itself and it's not unusual to see tourists stopped by the side of the road trying to get photos, often just for Instagram.
When booking your trip, reserve enough time to explore the area outside of the gardens to see the famous tulip fields. Definitely try to visit for sunrise or sunset if you want to get the best photos.
Sunrise and sunset times in Lisse in spring 2020.
I know it can be a pain to get up for sunrise but it's totally worth it. You'll need to allow plenty of time to scope out a location which is another reason to stay in Lisse, it'll give you plenty of time to take photos of the tulip fields. Staying in Leiden is also a good option for this reason.
Ride a Bike Around the Tulips
For a classic Dutch experience, you can hire a bike and ride around the tulip fields in Lisse. This is a fun way to see the colourful tulips fields and take photos away from the crowds at Keukenhof. Definitely check this out as cycling is one of the best ways to get around in the Netherlands and especially at Keukenhof.
The easiest way to hire a bike is to book online before you go. Your bike will then be waiting for you near the main entrance at Keukenhof. You can hire a bike for 3 hours or all day. There isn't a huge difference in price so I'd suggest going for the full day booking otherwise you might have to hurry back to return the bike.
Only adults need to book their bikes in advance because they sometimes run out but if you're travelling with kids, you don't need to book their bike in advance.
Book your bike in advance here then pick it up from the entrance to Keukenhof.
Drive a Cool Electric Car Around the Tulip Fields
If you're not feeling up to riding a bike, a new and completely unique way to see the tulip fields is by hiring an electric vehicle. I'm not sure if you've seen them before but Renault came out with a little 2-person car called a 'Twizy'. It's actually more like a golf buggy than a car and you can hire one to drive yourself around the tulip fields in an environmentally friendly way.
Don't worry if you're normally not confident driving in a foreign country, this is a self-guided tour on a set trail. You follow the road through the Keukenhof forest and around the Holland bulb fields. You can stop and take photos as often as you like. You are given a GPS but you can't get lost, they make it really straight forward.
The tour goes for 90 minutes and pick up is in Lisse. Note that you need to have had your drivers license for 3 years to be able to drive these buggies.
This is a great way to explore the tulip fields as you can stop whenever you want and you have an audio guide with information and tips.
How to Get To Keukenhof Garden
Keukenhof is located in Lisse in Holland. The event is an easy day trip from Amsterdam or Leiden. Buses run regularly from both cities or if driving there is plenty of parking at the event.
Avoid the queues by buying your ticket online in advance.
If you would prefer to do a day trip from Amsterdam, I recommend this one:
This tour runs multiple times per day starting from central Amsterdam and there are various return times so you have the freedom to leave when you're ready yet without the hassle of finding your own way around.
Where to Stay for Amsterdam Tulip Festival
Keukenhof is located in the small town of Lisse, Netherlands. The best value central hotel in Lisse is the De Oude Pastorie. It's renovated and gets excellent reviews for cleanliness and fast wifi. It's not inexpensive but there aren't really any budget hotels in Lisse.
If you're looking for a luxury hotel in Lisse, the Boutique Suites Lisse is the closest you'll get but if you want something really fancy, stay in Amsterdam.
Most visitors prefer to visit Keukenhof on a day trip from Amsterdam and in that case I recommend the gorgeous Art'otel Amsterdam or the more affordable Sir Albert boutique hotel.
Find the best hotel rates for your trip here.
Leiden is another city where you might want to consider staying. There are more hotel options than Lisse and Leiden is only a 20-minute drive from Keukenhof and less than an hour by train. Both the Hotel Steenhof and Hotel d'Oude Morsch are beautiful hotels in Leiden and the town is well worth a visit, more so than Lisse.
I suggest booking Keukenhof hotels well in advance if you want to stay close to Keukenhof as the best hotels book up quickly, often six months in advance.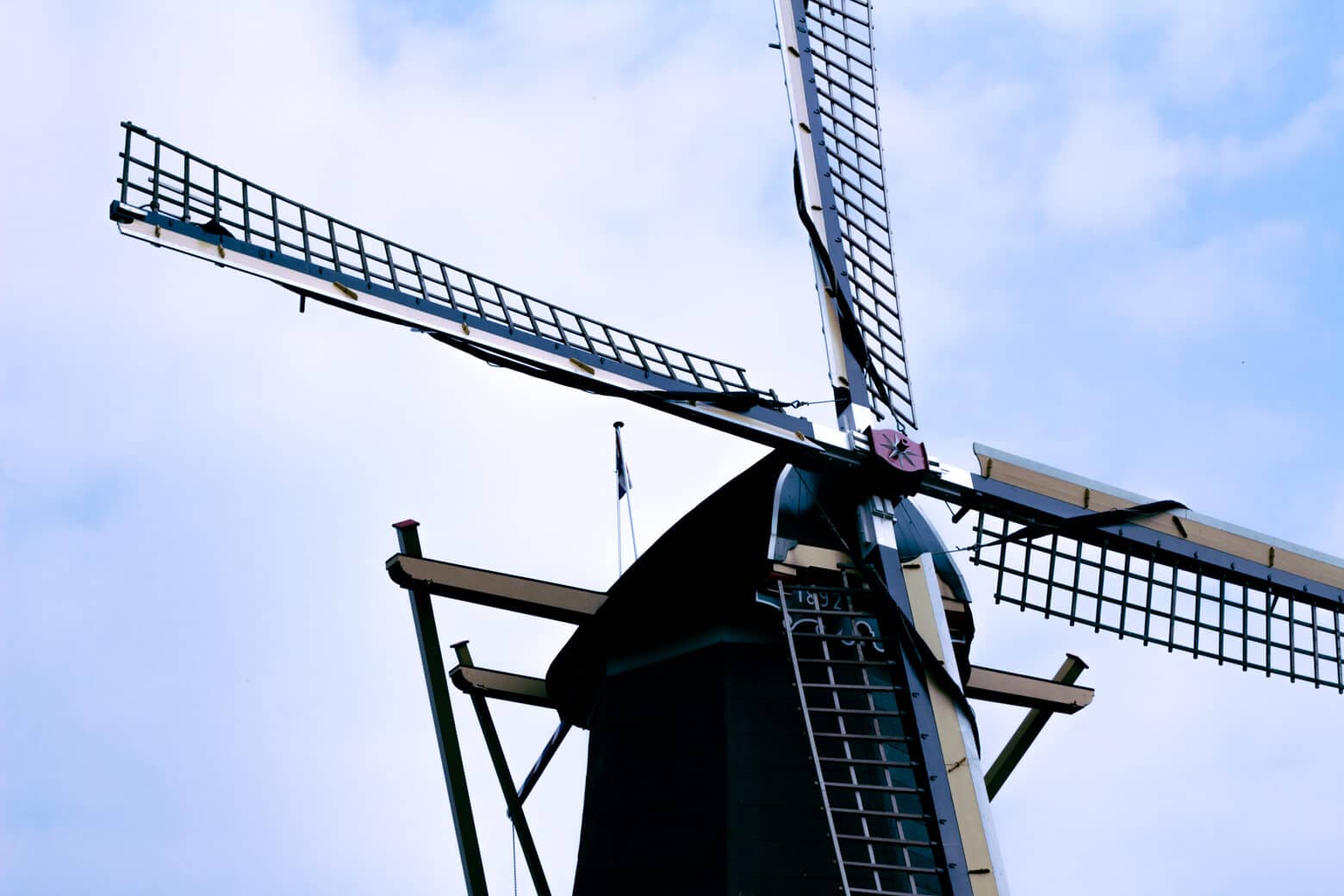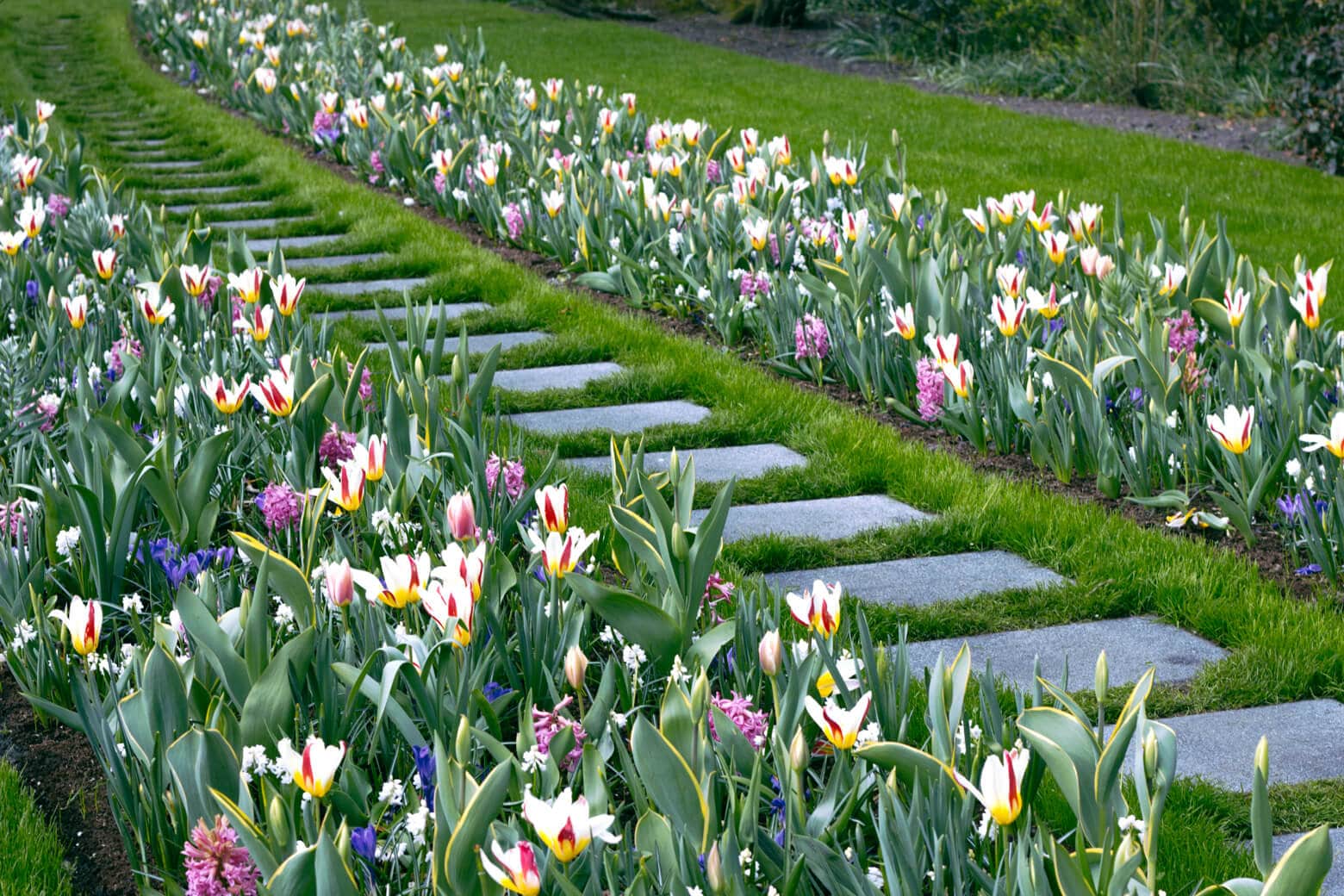 Skip the Line – Buy Your Keukenhof Tickets Now
Keukenhof is a hugely popular event. If you want to avoid long queues I suggest ordering your Keukenhof tickets before you go, that way you can walk straight into the tulip gardens.
View 2020 ticket prices and order your Keukenhof ticket here.
Tickets are sent by email from Ticketbar. It's a convenient way to get them and this is the most affordable option.
Or if you prefer the convenience of a tour, I suggest this one via Get Your Guide:
Skip the line with a flexible tour from Amsterdam.
Amsterdam Tulip Season 2020
Amsterdam tulip festival and botanical gardens in Keukenhof is open from the 21st March to 10th May in 2020. The best time to visit Keukenhof to avoid the crowds is early April (and to see the hyacinths and daffodils). You'll have a better chance for nice weather in late April or early May and this is also the best time to see the outdoor tulip blooms and bulb fields.
More details can be found on Keukenhof's official site.
No matter when you visit there will always be 1000s of bulbs flowering throughout the gardens.
If you can't be in the Netherlands during the Keukenhof festival, National Tulip Day is held in Amsterdam each January. This is the start of Amsterdam's tulip season and there's a temporary tulip garden in Dam Square where you can pick a tulip for free.
If you're still not sure when to go or travel dates for your trip, this post on the best time to visit the Netherlands might help you decide.
Visiting Keukenhof in 2020 – Summary
Keukenhof is open from 21st March to 10th May in 2020.
Tulips are in flower during the entire festival.
You can also see hyacinths, daffodils, crocus, orchids, and other spring flowers.
Stay in Lisse if you'd like to be walking distance to the event.
Stay in Amsterdam if you'd prefer to do a day trip.
It's easy to reach the festival by car or public transport.
Skip the line and buy your ticket online.
Book a tour if you don't want to organise your own visit.
Rent a bike and cycle around the tulips fields in Lisse.
Hire an electric car and self-drive around the tulip fields.
More things to see in the Netherlands

Please note this post contains affiliate links for hotels, tours and bike rental.
Pin to your travel or Netherlands Board